Minimally Invasive Spaying
Laparoscopic Spay / Lap Spay
At Coppell Veterinary Hospital we perform a minimally invasive spaying procedure, also known as Laparoscopic Ovariectomy. It differs from typical spaying procedures. Following is some information about the procedure. We perform this procedure on Monday and Wednesday mornings only. There is a weight limit 60 pounds or less.
Traditional Spays
In traditional spays, a 2"-3" incision is made in the abdomen through which the ovarian ligament is torn from the abdominal wall. This tearing causes bruising to the abdominal wall and postoperative pain. By performing the procedure laparoscopically the patient experiences less trauma and 65% less pain.
---
Laparoscopic Spays
In laparoscopic spays the procedure is performed through two or three small incisions in the abdomen, typically 3/16" in size depending on the size of the animal. With the laparoscope we are able to perform the surgery with magnified views of the organs, allowing for greater precision. The ovarian ligament is carefully cauterized and when appropriately sealed, cut, rather than torn. With laparoscopic spays we are able to offer our patients reduced pain, minimal recovery time and less trauma than with traditional spays.
---
What is Laparoscopy
Laparoscopy is minimally invasive technique for viewing the internal structures of the abdomen. A laparoscope (camera) inserted through a small incision in the abdomen magnifies internal structures of the abdomen on a TV monitor for thorough examination. Additional small incisions are made to facilitate the use of surgical instruments. The most common application of laparoscopy in veterinary medicine is biopsy. In human medicine, many surgical procedures are done in this manner, for example, gall bladder removal. In recent years, laparoscopy has been adopted to offer a less traumatic and 65% less painful alternative to traditional spays
---
Advantages of Laparoscopic Spays over Traditional Surgery
65% LESS PAINFUL THAN TRADITIONAL SPAY
Smaller incisions are less painful and reduce recovery time
Controlled cuts eliminate pain and bruising caused by tearing tissue in traditional spays
Fewer complications
Allows for excellent visualization of abdominal organs
Entire surgery performed through a few tiny incisions rather than a large abdominal opening
In large breed dogs, gastropexy can be performed at the time of spay.
---
Ovariectomy (OVE) vs. Ovariohysterectomy (OVH)
A study published in the Journal of Veterinary Surgery in 2006 compared ovariectomy (removal of the ovaries) to ovariohysterectomy (removal of the ovaries and uterus). The study conclusions were as follows: "OVH is technically more complicated, time consuming, and is probably associated with greater morbidity (larger incision, more intraoperative trauma, increased discomfort) compared with OVE. No significant differences between techniques were observed for incidence of long term urogenital problems, including endometritis/pyometra and urinary incontinence, making OVE the preferred method of gonadectomy in the healthy bitch." The study stated the clinical relevance being "Canine OVE can replace OVH as the procedure of choice for routine neutering of healthy female dogs."
Ovariectomy has the been procedure of choice in Europe for several decades. With the published data available to veterinarians in the United States, Coppell Veterinary Hospital is adopting the study recommendations. Study findings reveal OVE will cause less trauma for our patients by eliminating the need to remove the uterus and the trauma involved in that process.
The ovariectomy procedure is even less traumatic to your pet when done laparoscopically. They will be able to go home the same day and return to normal activities sooner than in the past. Although the procedure is less painful than traditional surgery, your pet will have discomfort. We practice multi-modal pain relief and your pet will receive appropriate pain relief before, during and after their procedure.
Checklist of What to Ask
In order to help people make informed decisions, we have created a chart that details what our procedures involve. Unfortunately, similar sounding procedures are frequently not the same at different veterinary hospitals. This chart can be used to better compare our procedures with those of other facilities.
Click here to download the brochure with the checklist.
---
What Our "Patients" Have to Say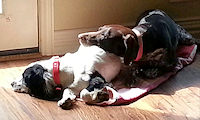 We have had great results with the laparoscopic spay procedure for both Addie our GSP and Star our English Cocker.  They are both extremely active hunting dogs and were moving around great even immediately after the procedure and seemed 100% the same/next day.  It was more of a challenge trying to get them to chill out for a few days than the actual recovery from the procedure.
We do not even live in the area any more but trust in Dr. Stearman and Angie so much in their overall care and this procedure, that we made the drive for Star our newest puppy and family member to get the same great benefits as Addie received.  I highly recommend the minimally invasive procedure.
Scott McK.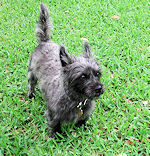 Berkley is the first Cairn that we have had in nearly 23 years. Knowing that we would need a veterinarian to treat her, we started searching on the internet. We were drawn to Coppell Veterinary Hospital which was run by Dr. W.C. Stearman and his staff. Their website made it sound like they really cared about their patients. We made our first appointment with trepidation not being sure how Berkley would handle this first visit. Our nerves were put at ease rather quickly when she took to Lisa who greeted us as we came into the door. Then Angie and Dr. Stearman were a great team as they examined Berkley and gave her her first round of shots. Berkley loved them and especially how the Doctor spoiled her with small treats. After a few months it came time for Berkley to have a minimally invasive surgery. We were really stressed and worried about this since our previous Cairn, Brandi had had the same surgery 36 years ago. She was in a lot of pain and was very sick after this surgery for a couple of weeks. The day came for us to take Berkley in. Angie and the Dr. Stearman met us as we came in and assured us everything would be okay. About an hour later we receive a call that everything was fine and Berkley was doing well. A little later in the day, another call was received from Dr. Stearman about how well Berkley was doing. The doctor was talking more to Berkley than he was to us while he talk to us on the phone. We could hear her in the background and how she was responding to his gentleness. We knew then that this Doctor and his staff really loved the patients they treated and had great bedside manners with them as well as their owners. We went to pick up Berkley later in the day and met with the Doctor who explained everything he did. He gave us a DVD so we could watch the same kind of surgery that had been previously recorded on another patient. Berkley came home, had no problems and was her normal self in a matter of a few days. We would highly recommend this great staff who can be trusted with any of your furry member of your family.
Bob and Starr F.
Olivia's Story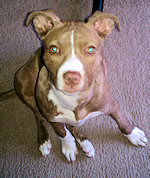 Santa came early to my house in 2012.  On December 1st I found a sick and starving abandoned pit bull puppy on my front porch.  The puppy, soon dubbed Olivia, and I bonded instantly.  I had previously had another dog, Isabelle, spayed laparoscopically and was amazed at how quickly she healed and so when it came time to have Olivia spayed I knew I wanted it done laparoscopically.  Unfortunately, I couldn't find any vet in Tulsa that performed laparoscopic spays.  I found Coppell Veterinary Hospital online and after speaking with Lisa on the phone I decided they were the perfect people to take care of my Olivia.  So Olivia and I, with "big sister" and laparoscopic spay veteran Isabelle along for support, loaded up the car and made the four and a half hour drive from Tulsa to Coppell.  It was worth every minute on the road!  Read the full story here.
The Cliftons